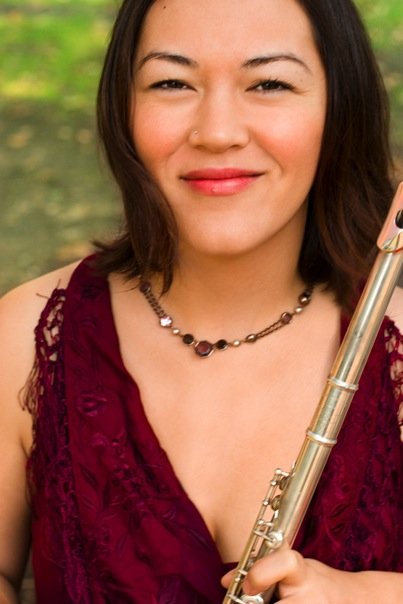 Wayne, New Jersey
Flute Lessons | Recorder Lessons | Skype Lessons
will travel to you within: Bergen County , Essex County , Hudson County , Middlesex County , Morris County , Somerset County , Sussex County , Union County , Warren County please enquire.
---
Qualifications:

Doctor of Musical Arts - The Graduate Center, CUNY; Master of Music - New York University

Pricing:

Private flute lessons - $75/hr, Private recorder lessons - $60/hr

Styles:

classical

Suitability:

All ages
---
Bio
A new resident of New Jersey, Dr. Sarah Carrier has performed in venues around the world including Carnegie Hall, Harpa Concert Hall (Iceland), The Royal Danish Academy of Music, the Sydney Opera House, and many more. With over 15 years of flute teaching experience, many of Sarah's students have been accepted into top music schools in New York City. She has given numerous workshops for the New York Philharmonic's Very Young Composers Program and The Little Orchestra Society. Sarah has also served as a judge for the New Jersey Flute Society flute competition and the New York Flute Club high school flute competition.
---
Teaching Info
The focus of my lessons is on classical and contemporary flute playing. With weekly or biweekly lessons, students will gain major improvements in tone, technique, rhythm, ensemble playing, preparing for auditions/competitions, sight reading, and stage presence. I love working with flutists of all ages and levels, including adults who are returning to the flute. Students will have the opportunity to perform in recitals and to meet other flutists in the studio. I also offer recorder lessons for younger students (ages 5-9) who are interested in one day learning to play the flute. It's a great way to be introduced to the basics of rhythm and reading music! To get in touch, you can email me at firstchairflutes@gmail.com.
"I would highly recommend Sarah as a private flute teacher. My nine-year-old daughter has attention difficulties and Sarah has been wonderfully patient with her. C. has made remarkable progress in less than a year. Sarah emphasizes proper technique and learning (for example, with a new piece my daughter has a tendency to work on the fingerings and ignore the rhythms, and Sarah has encouraged her to focus on both at once) and breathing. Beyond actual lesson instruction time, Sarah also gave us advice in purchasing our first flute, made musical flashcards for C. to study, and e-mailed us some videos of herself playing the book's musical pieces so we would know what they should sound like for our practice sessions. Sarah is also prompt, reliable and flexible in rescheduling lessons. A very good teacher and a fine player herself!"
Elizabeth (student's mom)
"I feel so lucky to have found Sarah! My daughter has been taking lessons with her for over a year and it has been an overwhelmingly positive experience. Sarah not only teaches the fundamentals, but injects creativity and modern techniques into each lesson. She also goes above and beyond to give her students a perspective of the musicians world—arranging recitals and inviting students to flute events and performances around the city."
Jane (student's mom)
"I found Sarah (recently online). I've had many music teachers since I was very young (I'm 38), and know what a rare thing it is to find someone like Sarah. I used to be an active amateur musician when younger, but got caught up in a busy career for too many years. Just recently, my business partner bought me a Western classical flute as a gift; and, after 5 lessons with Sarah, my love and passion for music is fully re-invigorated. I really like that as a teacher, she seems to understand the importance of balancing skill improvement with positive feedback from working on really beautiful pieces. She's also patient (that's a big plus), and exceptionally knowledgeable. I also haven't gotten bored once while playing the exercises that she's recommended (which to me is a sign of experience in how well a teacher can tailor material/homework to their student). In short, thanks to having found Sarah, music is back in my life to stay - my emotions and creative brain are on fire, and I feel like I'm learning very quickly."
Chris Dacaro